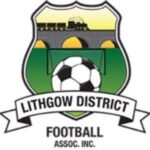 The Lithgow District Football Association Inc. encourages and promotes junior football (soccer) in Lithgow and surrounding areas. Catering for all players, male and female, from Under 6 to Open Age Mixed Social Competition. All games are played on Saturdays at the Marjorie Jackson Sporting Complex (Sandford Avenue, Lithgow) with the following Clubs being represented:
Workies Redbacks FC
Lithgow Thistles Soccer FC
Wallerawang Soccer Club.
Blackheath Football Club
Lithgow City Rangers Soccer Club
2024 Western Youth Leauge – please see all relevant information by selecting the Western Youth League tab.
PLEASE NOTE:  Dogs are not pemitted on any grassed area inside the fences at Marjorie Jackson Sporting Fields. The Council Ranger will be called if any dogs are brought to the fields.